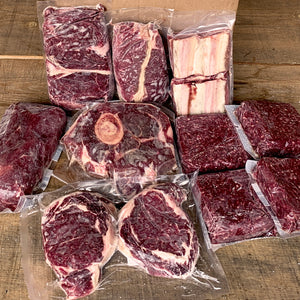 Magnolia Grass Fed
Box 1 * FOR LOCAL DELIVERY OR PICKUP ONLY*
Regular price
$140.00
$0.00
Box 1 includes 100 % grass fed and Grass finished, hormone and Antibiotic Free:
Four vacuum-sealed 1 lb. packages Ground Beef 85% lean.
4-6 vacuum-sealed steaks, depending on weight.
1 Roast, vacuum-sealed, approximately 2 lbs.
1-2 lbs short ribs, vacuum-sealed.
All box orders come frozen with cold packs to keep the meat frozen upon arrival.  Please freeze or fridgerate immediately to preserve the quality and freshness of the meat.  Steak assortment cuts include: Flat iron, ribeye, new york strip, top sirlion, and filet mignon.  Roast variety includes: chuck, arm, and tri tip.
Available for local pickup/delivery only**** At check out please choose the delivery option. The delivery fee goes directly to the delivery driver. WE DO NOT SHIP OUT OF STATE AT THIS TIME.  Any orders that are for shipping will be refunded.  Thank you for understanding.
---